The rise of the lateral flow test: everything you need to know about lateral flow tests in five steps
Lateral flow tests have been around for many years, think the humble pregnancy test; however, the advent of the COVID-19 pandemic has increased the reach of these point-of-care tests exponentially.
Lateral flow tests are rapid diagnostic tests that may be used at the point-of-care (i.e., with a patient during a clinical consultation). Rapid diagnosis of an infection is important to ensure that patients receive the correct care and when necessary, treatment with appropriate antimicrobial therapy (refer to this post to find out more about what is meant by antimicrobial and more about antimicrobial resistance).
By the end of this short piece, I hope to share with you the simple yet complicated nature of a lateral flow test, their advantages, and things to look out for when considering such a test for your clinical setting.
1. What is a lateral flow test and how does it work to diagnose an infection?
A lateral flow test, or immunochromatographic assay, appears to be a simple test all wrapped up in a plastic cassette; however, these tests are the end-product of a complex development process (See Figure 1).
The basics
From our early science years at school, we may remember a lesson about the basics of chromatography involving a piece of paper, a water soluble felt-tipped pen and a jar of water. Lateral flow, the movement of something from one side to another in a unidirectional manner, works in much the same way: a strip of nitrocellulose instead of the piece of paper, a clinical sample instead of the felt-tipped pen and a buffer solution instead of the jar of water.
On the inside
A lateral flow test contains a sophisticated series of antibodies (immuno-) that recognise and capture specific molecules of interest from a clinical sample. For diagnosis of infection these molecules of interest are usually an antigen or antibody. When the clinical sample is mixed with a buffer solution, the molecules of interest, such as 'bits' of viral particle (for bits, read antigen), are released into the liquid and move along the strip (-chromatographic) inside an outer plastic casing or cassette.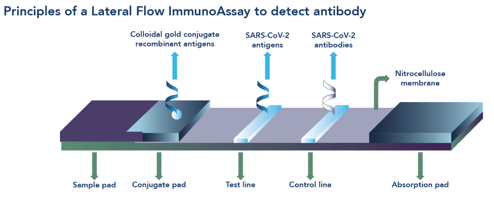 A binding result
When a clinical sample contains molecules relevant to the infection of interest, they are captured by antibodies that are free to move along the strip once the test solution has been added. The molecule+antibody complexes move by capillary motion along the strip to where more antibodies have been laid down onto the nitrocellulose strip in an area labelled 'T' (for Test). When the molecule+antibody complexes bind to the test area, a change in colour occurs, indicating a positive result.
No molecules of interest
If a clinical sample does not contain relevant molecules of interest, the test solution moves along the strip, releasing the antibodies as before. In this instance, however, the antibodies don't have any molecules with which to bind and they carry on their merry way along the strip to be captured only by the control line 'C', causing a change in colour in this area of the test strip, indicating a negative result.
Checks and Balances
In order for a lateral flow test to be valid, the control line must always be present. The control line indicates that the test has been completed properly (sufficient test solution added, correct length of time in which to read the results etc) and explains why the control line is always at the end furthest away from sample addition point.
2. Types of lateral flow test available for diagnosing an infection and when they are used
When diagnosing an infection, there are two types of lateral flow test according to the molecule of interest that they detect. These tests look the same and work along the same principles:
Antigen detection: these tests determine if a person is currently infected. Different clinical samples are required according to patient symptoms and the infection sought. Real time decisions about treatment and management of the patient can be made according to the result.
Example: detection of the nucleocapsid protein of SARS-CoV-2 in the COVID-19 rapid antigen test from Fortress Diagnostics. This test has passed Phase 3 evaluation by PHE Porton Down.
Antibody detection: these tests usually indicate past exposure to an infectious agent (depending on the type of antibody detected: IgA, IgM or IgG). If antibodies are present in the clinical sample, it means you have had, or still have, the infection in question. Antibody lateral flow tests require a finger prick of blood.
Example: detection of total antibody to SARS-CoV-2 spike protein in the COVID-19 rapid antibody test from Fortress Diagnostics. This test has been used as part of the hugely informative REACT-2 (REaltime Assessment of Community Transmission) COVID-19 surveillance programme, commissioned by the Department of Health and Social Care, in collaboration with Imperial College London, Ipsos Mori, and Imperial College Healthcare NHS Trust.
3. Advantages of a lateral flow test
Lateral flow tests are designed to be easy-to-use with minimal steps, limited equipment requirements and can be completed without laboratory facilities:
[take an appropriate clinical sample – add the sample to a buffer solution – add mixed buffer solution+clinical sample to test cassette – wait an allotted amount of time – read the result]
Lateral flow tests require an easily accessible and patient-friendly sample type, for instance, urine, finger prick blood, or nasal swab.
More than one pathogen can be included in a single lateral flow test, for example, detection of SARS-CoV-2, Influenza A, and Influenza B in patients with respiratory tract symptoms. One example of these combined lateral flow tests is the COVID-19/Influenza A+B/RSV Antigen Combo Lateral Flow Test from Beright.
Results are easy to interpret (positive, negative, or invalid) and are available after a short period of time (usually 10-30 minutes depending on the test).
Lateral flow tests are inexpensive and can often be stored at room temperature.
As the results are available at the point-of-care, both the healthcare provider and the patient are empowered to discuss the results in real time.
If applied in a suitable manner to a clinical workflow (as opposed to simply adding to an existing workflow), lateral flow tests may provide a cost-effective healthcare solution to keep appropriate patients out of hospital and managed in the community.
This piece has been written with a UK market in mind; however, by their very nature lateral flow tests lend themselves to diagnosis of infections in low- and middle-income countries.
4. Tips for using a lateral flow test wisely
Lateral flow tests are one tool in a whole diagnostic toolbox and should be used wisely. In the same way that you wouldn't (and shouldn't!) use a spanner to open a can of beans, lateral flow tests have their place in the point-of-care diagnostic pathway alongside laboratory-based tests.
The COVID-19 pandemic saw a boom in the availability of lateral flow tests but we quickly learnt that not all lateral flow tests, and their evaluations, are created equally.
As with any diagnostic test, the accuracy of a lateral flow test is paramount. Test performance is measured in terms of sensitivity (how well a test detects a person with the infection) and specificity (how well the test detects a person without the infection). Test performance should also take into account user acceptability.
Below are some examples of things to consider when deciding if a lateral flow test is right for your diagnostic practice:
Who manufactures the test? Are they an ISO accredited laboratory?
Has the test been evaluated independently?
What was the study design used for evaluation – has the kit been evaluated according to the intended purpose of the test; what was the study population; what was the sample size; what was the reference standard, was the test used at an appropriate time etc
Has the test been evaluated against symptomatic and/or asymptomatic patients?
Regulation requirements – Does the kit have a CE mark, MHRA registration required for the UK market, or FDA approval for the US market?
Most lateral flow tests are for use by trained healthcare professionals, who will take into account the bigger clinical picture, not least patient factors (old or young; with symptoms or without symptoms, co-morbidities, clinical history etc) and the results of other diagnostic tests, before making a careful and considered interpretation of the test result.
5. The future of lateral flow tests
As we move slowly out of the COVID-19 pandemic, lateral flow tests look here to stay. Healthcare professionals, policy makers and the public now have an awareness of the value and benefits of lateral flow tests and how they can contribute to much needed change in infection diagnostics.
Any new diagnostic test coming to market needs to be compared fairly so that an informed decision can be made about test accuracy and use case. In order to regulate claims that are made about lateral flow tests, some of which can be misleading, standards and agreed methods of evaluation are needed.
Lateral flow tests have a lot to offer modern diagnostic pathways. Watch this space for how forward-thinking healthcare providers are adapting their practice to include rapid point-of-care diagnostics, including lateral flow tests, to ensure the best care for their patients.
COVID-19 and respiratory viruses testing options
Discover our comprehensive range of tests for COVID-19 and other respiratory viruses, including rapid tests and ELISAs.