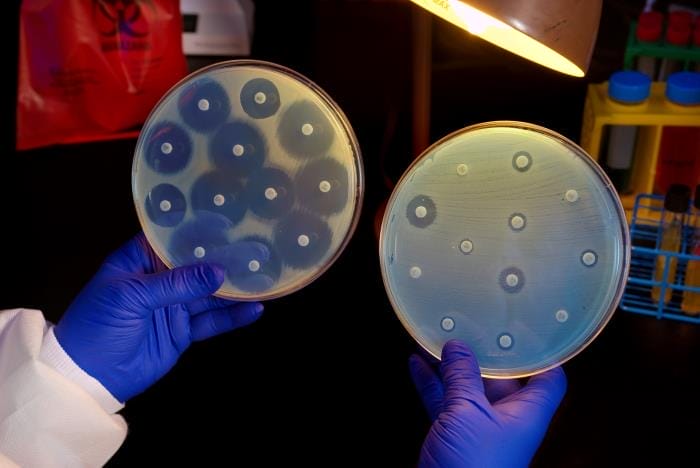 Battling the burden of Carbapenem resistance; new antibiotics in the pipeline
IBMS is a diary event that we always look forward to at Una Health. It is a great opportunity to meet with our customers and delegates, as well as better understand how our products can improve patient care and pathways.
One talk we attended at IBMS was by Katie Hopkins, Lead Clinical Scientist, Antimicrobial Resistance & Mechanisms Service at UKHSA. Katie Hopkins discussed new drugs for Gram-negative organisms.
The global burden of antibiotic resistance is a leading cause of death and directly attributable to 1.27 million deaths each year.1 One key mechanism contributing to this resistance is the production of carbapenemases, enzymes that can inactivate carbapenem antibiotics — a class of drugs often considered the last line of defence against Gram-negative infections.
There have been very few new antimicrobials coming to market in recent years, with no new classes of antibiotics since the 1980s.
As a result of the rise of resistance to last-line antibiotics and lack of development, the World Health Organisation (WHO) published list of bacteria for which new antibiotics are urgently needed in 2017, with A. baumanii, P. aeruginosa and carbapenem resistant Enterobacteriaceae making the 'Critical Priority' list.2
There are now 80 agents under development, with just 12 for Gram negative organisms. These novel antibiotics or novel combinations of antibiotics include cefidericol, aztreonam/avibactam, sulbactam/durlobactam, cefepime/taniborbactam, and cefepime/zidebactam.
The effectiveness of these new antibiotics varies depending on the type of carbapenemase produced. Cefidericol has demonstrated potency against all carbapenemase resistance phenotypes but has cautionary use due to serious side effects, while aztreonam/avibactam resistance has been reported in metallo-beta-lactamase (MBL) E. coli producers.3,4 Cefepime/taniborbactam and cefepime/zidebactam show activity against various carbapenemases but are not so effective against others.
Identifying the specific carbapenemase resistance mechanisms is crucial for effective treatment. Ceftazidime/avibactam is an example of this, which is an antibiotic treatment currently used for infections caused by KPC and OXA-48-like resistance mechanisms. The new antimicrobials in the pipeline will also require the determination of resistance mechanisms to ensure appropriate treatment.
The use of rapid diagnostics that identify carbapenemase mechanisms, such as NG Test Carba 5, will become increasingly important in routine microbiology laboratories. It is only through use of such diagnostics that timely, appropriate antibiotic treatment can be given to patients to save lives and curb the further rise of resistance.
---
Resources and further reading: