Siemens Atellica® VTLi Analyser is our innovative product of the quarter
Siemens Healthineers Atellica® VTLi Patient-Side Analyser is our product of the quarter, which Una Health will be distributing into primary care in the UK.
The symptoms of myocardial infarction (MI), also known as a heart attack, can be varied and atypical so the use of testing for biomarker cardiac troponin I is crucial to transform chest pain assessment.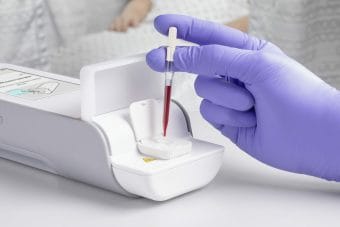 The Atellica® VTLi system offers clinicians a high-sensitivity troponin I test from a fingerstick sample, which avoids a time-consuming blood draw. With the ability to aid in diagnosing a heart attack quickly and accurately in eight minutes, clinicians can improve outcomes for patients.
Providing a lab standard test result at the point-of-care can help clinicians accurately diagnose and treat heart attacks with confidence, aiding in earlier disposition decisions for patients not having an MI and fast interventions for those who are. With the wireless, handheld device, there is no longer a need to rely on a central laboratory for critical blood test results.
Please email enquiries@unahealth.co.uk or visit the product page for more information Atellica® VTLi Patient-side Immunoassay Analyser – Una Health