Fortress Diagnostics – ELISA Test Kits
Gold standard diagnostics
The EIA range from Fortress includes the gold standard diagnostic tool for HEV which is used by public health laboratories across the UK.

Renowned for their quality and accuracy, the well-established Fortress Diagnostics range is designed for all 'open' ELISA instrumentation.
Fortress Diagnostics have developed a range of Enzyme Linked Immunoabsorbent Assays (ELISA) and Chemiluminescence immunoassays (CLIA) tests as an effective and highly sensitive range of diagnostics solutions. 
There are two distinct ranges of ELISA Testing Kits available:
Allergens – covering a wide range of diagnostic areas, including allergies, anaemia, diabetes, fertility and pre-natal, thyroid and adrenal and tumour markers
Infectious Diseases – CE-marked, manufactured to ISO 13485 and include Anti-HCV, Anti-HIV 1&2, HBsAg (HS) and the market-leading HEV IgG and HEV IgM tests
See the full list of available tests in the table below.
Gold standard assay technique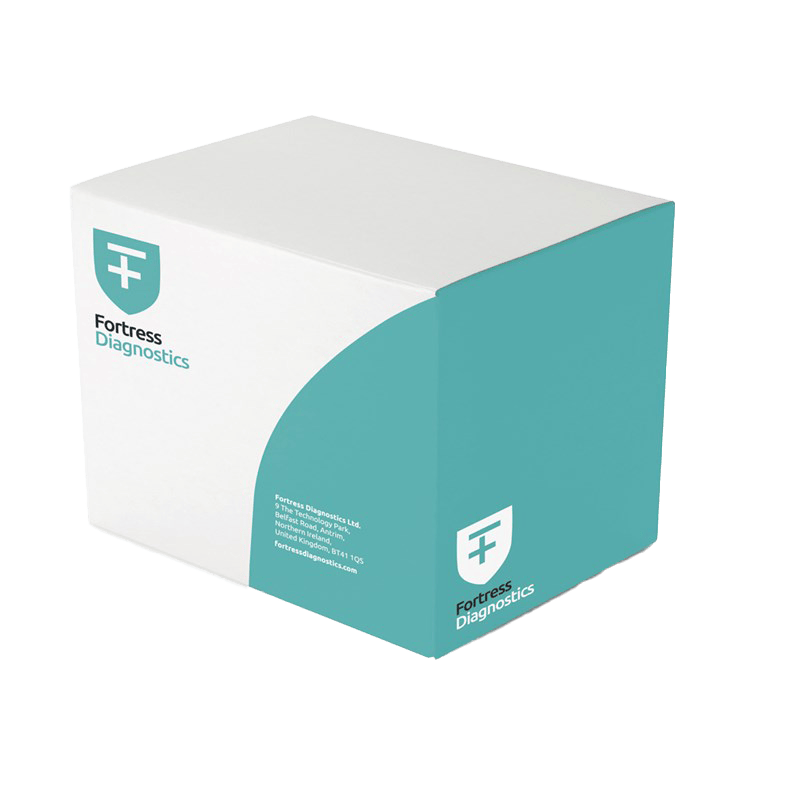 Product Description
Code
Size
Storage
CE Marked
17-α-OH Progesterone
BXE0996A
96T
-
Yes
Anti-Mullerian Hormone (AMH)
BXE0999A
96T
-
Yes
CRP (High Sensitivity)
BXE0617A
96T
Yes
Covid-19 Total Antibody
BXE0882A
96T
-
Yes
Covid-19 Total Antibody
BXE0882B
192T
-
Yes
COVID-19 IgM Antibody
BXE0883A
96T
-
Yes
COVID-19 IgM Antibody
BXE0883B
192T
-
Yes
Estradiol
BXE0860A
96T
-
Yes
Estradiol
BXE0860B
192T
-
Yes
Free Testosterone
BXE0997A
96T
-
Yes
Free β-hCG
BXE0872A
96T
-
Yes
hCG Rapid
BXE0873A
96T
-
Yes
hCG Rapid
BXE0873B
192T
-
Yes
hCG Rapid Extended Range
BXE0874A
96T
-
Yes
Helicobacter Pylori, IgA
BXE0672A
96T
-
Yes
Helicobacter Pylori, IgG
BXE0673A
96T
-
Yes
Helicobacter Pylori, IgM
BXE0674A
96T
-
Yes
Herpes Simplex Virus (HSV-I/2)IgG
BXE0621A
96T
-
Yes
Herpes Simplex Virus (HSV-I/2)IgG
BXE0621C
480T
-
Yes
Human Growth Hormone (HGH)
BXE0991A
96T
-
Yes
Neonatal T4
BXE0863A
96T
-
Yes
Neonatal TSH
BXE0682A
96T
-
Yes
Progesterone
BXE0661A
96T
-
Yes
Prolactin
BXE0671A
96T
-
Yes
Prolactin
BXE0671B
192T
-
Yes
Prolactin
BXE0671C
480T
-
Yes
Syphilis
BXE0995C
480T
-
Yes
T3 STREPTAVIDIN
BXE0703A
96T
-
Yes
T3 STREPTAVIDIN
BXE0703B
192T
-
Yes
Testosterone
BXE0862A
96T
-
Yes
Troponin-I
BXE0864A
96T
-
Yes
Unconjugated Estriol (UE3)
BXE0865A
96T
-
Yes
Vitamin D (Fast - 90 Mins)
BXE0112A
96T
-
Yes