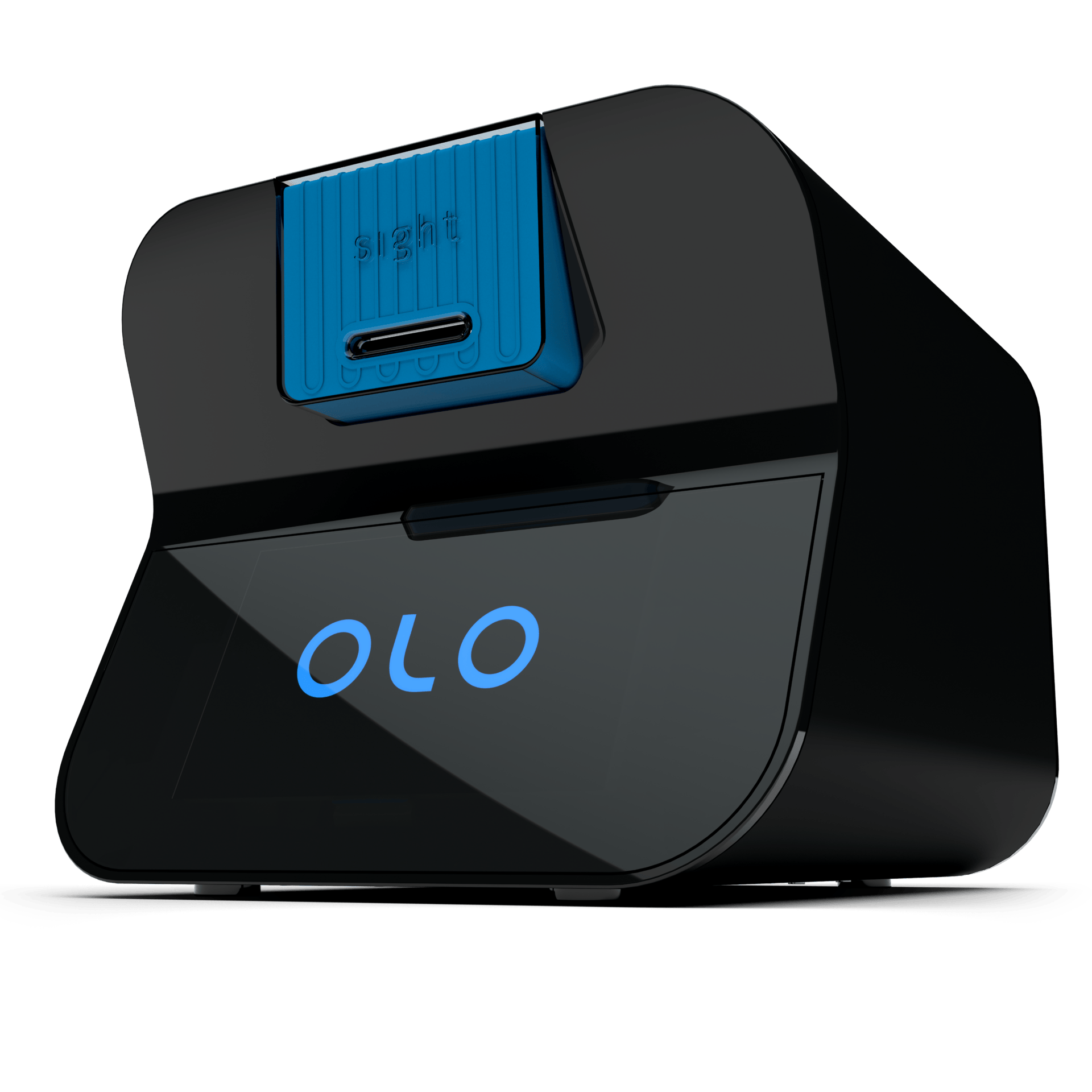 Sight OLO​Ⓡ​ is a point-of-care blood analyser that performs a ubiquitous and essential blood test, the Full Blood Count. It delivers lab-grade results in minutes from two drops of blood obtained from a finger prick or venous sample. Through a patented method of digitising blood, Sight OLO automates the identification and counting of different blood cell types and anomalies with Sight's proprietary AI and machine vision algorithms.
Sight OLO​Ⓡ​ is a point-of-care blood analyser that delivers lab-grade Full Blood Count results in minutes from 2 drops of blood obtained from a finger prick or venous sample.
With a more economical model than traditional large-scale machines found in laboratories, Sight aims to increase accessibility to affordable blood diagnostics at the point of care. Sight OLO's simple-to-use solution allows health institutions to adopt it with ease and ultimately bring blood testing closer to the patient.
Sight OLO uses one disposable cartridge per test, eliminating the need for reagent procurement, hazardous material storage and liquid waste disposal. The analyser can be operated between 18-30°C and the test kit can be stored between 18-26°C.
Sight OLO has been recognised by top academic institutions as a transformational innovation. It is the first device to receive FDA clearance for a FBC test with a finger prick sample, requiring 5% of the minimum blood volume needed for traditional lab equipment and still providing the same quality of results. Sight OLO is CE Marked according to the IVD European directive for performing FBC tests in point of care settings.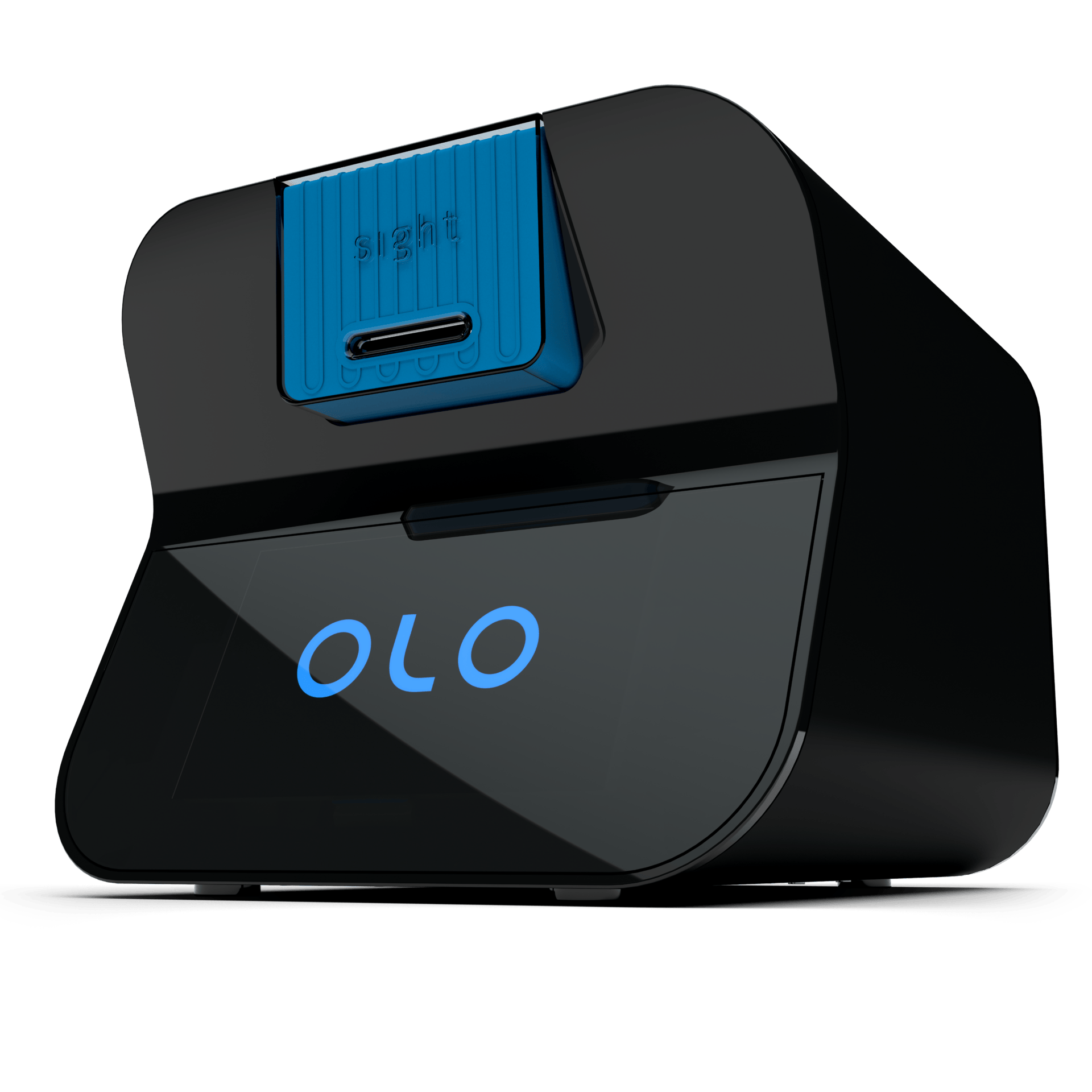 Sight Diagnostics​Ⓡ​ uses a patented method of digitising blood, known as Patented Live Monolayer Imaging (LMI™).
The LMI is an automated, simple, and low-cost method for creating a monolayer of live cells. In just one sample, this imaging system generates over 1,000 microscopy images in multiple brightfield and fluorescence modalities. Leveraging artificial intelligence, Sight then automates the identification and counting of different blood cell types and anomalies and measures 19 different parameters in blood using various computer vision and machine learning models spanning from physical analytical models, classical computer vision, and convolutional neural networks, which are trained using novel learning schemes (including supervised and semi-supervised methods relying on unique ground truth generation schemes).
Sight Diagnostics​Ⓡ​ is removing the need for a lab to perform FBC testing, a process that is both expensive and time-intensive. Sight OLO is the size of a toaster oven (about a cubic foot) and the test kit is approximately the same size as a credit card, making Sight OLO easy to transport. Sight OLO's factory calibrated nature is low maintenance and requires a small blood volume of only 2 drops to operate. Plus, the blood can be taken by finger prick or venous sample, which makes Sight OLO adaptable to different patient populations. Overall, Sight OLO's simple form factor makes it ideal for a variety of clinical settings and can help enable decentralised testing. With Sight OLO, the same healthcare worker can draw the blood, run the test, analyse the results within minutes, and thus allowing for much quicker and more efficient treatment. Plus, drawing blood from babies or kids can often present a challenge, making Sight OLO's finger prick method especially beneficial.
There's no special setup required—all you need is a power outlet, and it's always on when you need it. Its minimal training and step-by-step on-screen guidance are designed to make it easy to use for operators with any level of experience.
Step 1:
Using OLO single use test kit, add two drops of capillary or venous blood to the disposable cartridge.
Step 2:
Insert cartridge and wait for 10 minutes while machine-vision scanning to be performed.
Step 3:
Visualise all results on OLO's touchscreen and transfer data to the patient record. Results can be automatically transmitted to the facilities information systems via LIS/middleware, email or printout.
We recognise that things are changing at an ever-increasing rate. Against this backdrop of constant change, our clients need a partner that will help them keep one step ahead.
This has driven and informed our thinking and is why we've invested in the Una Health E-Learning app. Delivering our training online is more efficient for our business and our clients' – ultimately saving them time and money, whilst making it easier to keep up to date and compliant.