QuikRead go® easy CRP is an easy-to-use and reliable point-of-care test, which gives quantitative CRP results within 2 minutes from a finger-prick blood sample.
For use in GP, pharmacy, care homes, community outreach, LTOT and multiple hospital departments.
Portable, accurate results in under 2 minutes at the patient's bedside.
Near-instant results support patient flow, meaning faster treatment implementation and a better patient pathway, outcome and experience.
QuikRead go easy CRP provides results for C-reactive protein (CRP) with a measuring range between 1-200 mg/l from whole blood, serum or plasma samples.
Accurate measurement of C-reactive protein (CRP) can be critical in the management of a patient with symptoms of an infection.
Quantitative measurement of CRP concentration has been reported to be a sensitive indicator of the efficacy of antimicrobial therapy and the course of bacterial infections, as well as an effective tool in controlling and monitoring postoperative infections.
Modestly elevated CRP values have been shown to be clinically relevant e.g. in neonatal sepsis and conditions that include systemic inflammation (such as COPD and Rheumatoid arthritis).
The QuikRead go easy CRP point-of-care test runs on the QuikRead go instrument, which is fully portable and features enhanced bi-directional connectivity, making it also suitable for use in hospital-at-home models, virtual and frailty wards.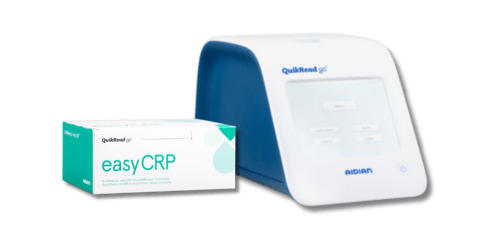 Users of the QuikRead go instrument and tests can benefit from CPD accredited training on Una Health's e-learning platform. Contact us for more details.
Further reading:
NICE has developed a medtech innovation briefing (MIB) on the QuikRead go for C-reactive protein testing in primary care. Read the briefing here: https://www.nice.org.uk/advice/mib78
Read the latest case study: QuikRead go® easy CRP: a perfect fit for the Hospital-at-Home model
Up to 12 months shelf life