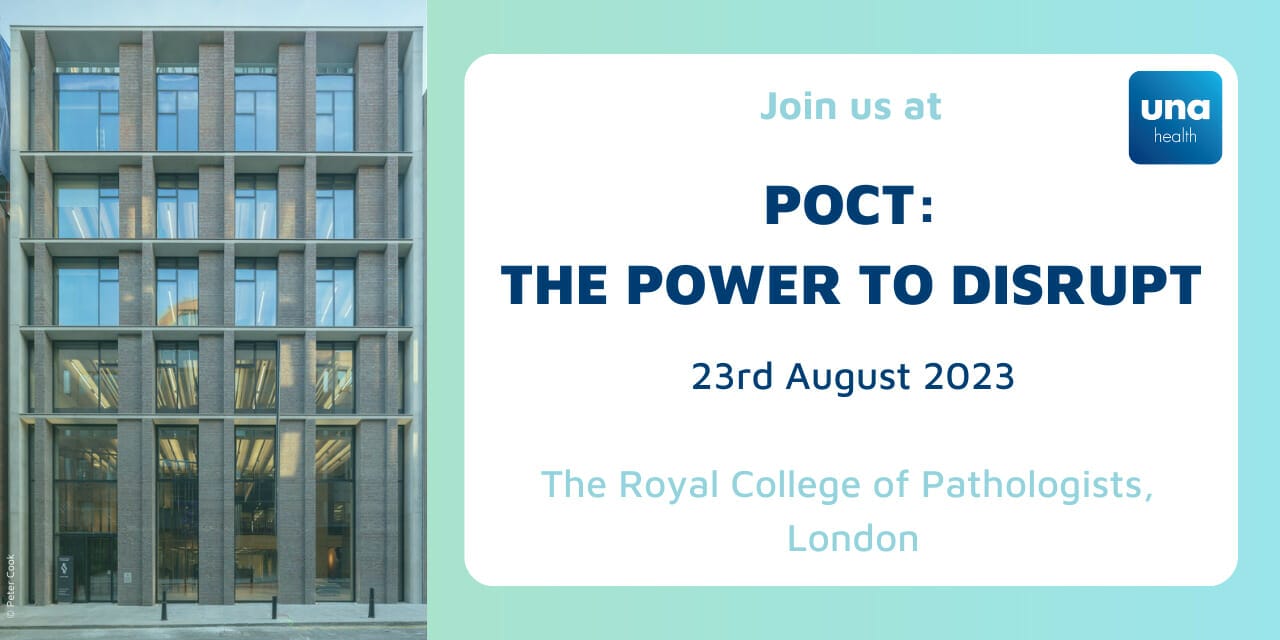 Join us at POCT – The Power to Disrupt, 23rd August, London
We invite you to visit us at the POCT – The Power to Disrupt event, at The Royal College of Pathologists, London on the 23rd of August 2023.
POCT – The Power to Disrupt is the 2nd event this year organised by POCT Innovators in London, following on from the success of the previous event held in March, in Nottingham. Discussing future trends in point of care and rapid diagnostics and covering a wide range of hot topics in the healthcare sector, the event is free to attend to NHS staff.
Una Health will be exhibiting and we welcome you to meet us there and discuss near-patient testing and how our point-of-care solutions and unique approach to testing can help you and the patients in your community with:
Accurate results right at the point of care, for reliable and informed treatment decision making, ensuring the highest standards of patient care
Rapid testing and diagnosis near your patient for quicker decisions about patient care and improved patient outcomes
Convenience in any primary care setting that provides your patients with better access to testing, results and treatment insights in one consultation, increasing patient satisfaction
Cost-effective POCT that can reduce costs associated with testing, particularly in cases where testing is performed frequently or in large volumes
CPD-accredited training and certification on our products and a dedicated e-learning platform
Various EQA schemes available
Seamless connectivity with healthcare systems and traceability of test results
Smooth and assisted transition through your point-of-care testing journey
Let's talk near-patient testing at POCT – The Power to Disrupt. See how we can help you and book a demo for our POCT testing solutions with our representatives.