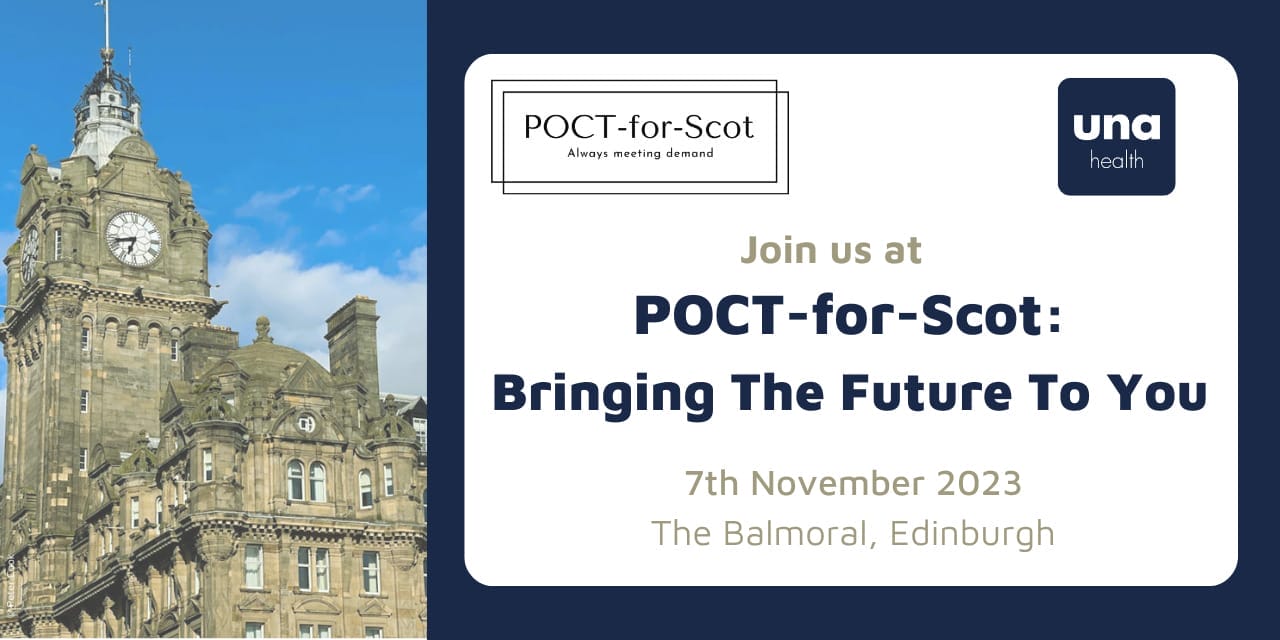 Join us at POCT-for-SCOT Event: Bringing the Future to You
We're excited to be exhibiting at the 'POCT-for-Scot: Bringing the Future to You' event, at The Balmoral Hotel in the beautiful city of Edinburgh, on the 7th of November 2023.
POCT-for-Scot: Bringing the Future to You will be the largest conference dedicated to Point of Care that Scotland has ever hosted and is following on from POCT-for-Scot's inaugural meeting back in March at the Stirling Highland Hotel. The event brings together the best minds from the Point of Care world, alongside the latest diagnostic equipment and innovative developments. The future of Scotland's Point of Care services will all be in one room on the same day, working together and learning from each other to provide safe and effective patient services.
We invite you to join our team and explore how our innovative POCT solutions and unique approach to testing can change the way near-patient testing is being done in the community. Find out more about some of our featured lab-quality solutions, including Aidian's QuikRead go® – the fully portable analyser for easy and accurate near-patient testing for CRP, HbA1c, iFOBT and Strep A and Sight OLO® – the haematology analyser that provides 5 part diff FBC results with 19 parameters. We will also showcase the new generation of blood gases and electrolytes analysers from OPTI Medical and the lateral flow test for 4 respiratory viruses – COVID-19/Influenza A+B/RSV.
Accurate results right at the point of care, for reliable and informed treatment decision making, ensuring the highest standards of patient care
Rapid testing and diagnosis near your patient for quicker decisions about patient care and improved patient outcomes
Convenience in any primary care setting that provides your patients with better access to testing, results and treatment insights in one consultation, increasing patient satisfaction
Cost-effective POCT that can reduce costs associated with testing, particularly in cases where testing is performed frequently or in large volumes
CPD-accredited training and certification on our products and a dedicated e-learning platform
Various EQA schemes available
Seamless connectivity with healthcare systems and traceability of test results
Smooth and assisted transition through your point-of-care testing journey
We look forward to seeing you there.